5 Healthy Smoothies You Can Have for Breakfast
Smoothies are a healthy and easy way to add nutrition to your diet, especially when you're running out of time. One smoothie can provide you with a complete balanced meal filled with vitamins, antioxidants, minerals, or even healthy fats. Here are 5 delicious and healthy smoothies you can have for breakfast!
1) Avocado Smoothie
The avocado smoothie is excellent for a quick on-the-go breakfast and is a far healthier choice than other quick meals like cereals or pancakes. Moreover, each ingredient in it is nutritious, and when they're all blended, it's utterly delicious! For instance, one serving of avocado can provide 8% of the daily value for fiber and has the least amount of sugar of any fruit. Pineapple helps in digestion, swelling and reduces inflammation, and oranges are rich in vitamin C.
Ingredients
½ small avocado
1 ½ cup of spinach
1 cup of peach slices
1 cup of pineapple chunks
½ cup of orange juice
1 cup of unsweetened coconut milk
Directions
Blend all ingredients until smooth and creamy. Serve chilled.
2) Blueberry Smoothie
If you want something filling yet healthy to start your day, the blueberry smoothie is perfect! This smoothie is packed with ingredients that are helpful for energy production. Not only do blueberries contain magnesium, iron, and potassium, but they also have anti-inflammatory properties and help in an increased production of dopamine in the body and brain – an organic chemical that plays a crucial role in components such as motivation, pleasure, and learning. Bananas add more staying power, which makes it great if you have the smoothie as a meal and they also contain healthy fibers. As for the spinach, you can't taste it at all, so throw in a reasonable amount!
Ingredients
1 cup of frozen blueberries
1 cup of frozen raspberries
½ frozen banana
1 cup of baby spinach
¼ cup of blanched almonds
¼ cup of raw cashews
A squeeze of lemon
Directions
Blend all ingredients. To thin the consistency, add more almond milk if necessary.
3) Peanut Butter Banana Smoothie
The high fiber and protein content in a peanut butter banana smoothie allow you to remain full for extended periods, reducing your cravings for junk food or snacks. Peanuts are a good source of monounsaturated fats, which are considered healthy fats. Oats can help in lowering cholesterol, specifically LDL (bad cholesterol). Lastly, dates and bananas are excellent sources of natural sugar, vitamins, and minerals.
Ingredients
1 cup of unsweetened almond milk
1 ripe banana
2-3 pitted dates
1 tablespoon of unsalted and unsweetened peanut butter
¼ cup of oats
Directions
Combine all ingredients and blend until smooth. You can add dates and milk to adjust sweetness and consistency to your preference. If you want a cold smoothie, you can freeze the banana in advance or add a few ice cubes.
4) Chocolate Almond Banana Smoothie
The chocolate almond banana smoothie is a rich and thick smoothie full of nutrients and yummy! Greek yogurt, almond butter, and chia seeds are ingredients that add a nice dose of fiber, protein, vitamins, and calcium to it. On the other hand, cocoa powder, almond, and vanilla extract add flavor to the smoothie. Try it; even kids will love this!
Ingredients
2 frozen bananas
½ cups of oats
2 tablespoons of chia seeds
½ cup of plain Greek yogurt
1 cup of almond milk
3 tablespoons of almond butter
2 tablespoons of unsweetened cocoa powder
1 tablespoon of honey
¼ teaspoon of almond extract
¼ teaspoon of vanilla extract
Directions
Blend oats and chia seeds until they turn into a fine powder. Add banana, yogurt, milk, cocoa powder, honey, almond, and vanilla extract. Blend until completely smooth and serve immediately. You can add the honey based on how sweet you want your smoothie to be.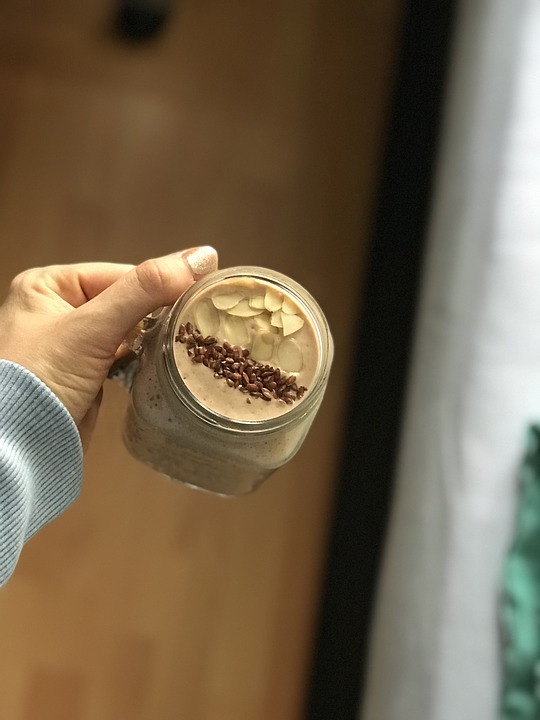 5) Strawberry Cheesecake Protein Smoothie
The strawberry cheesecake protein smoothie will leave you wanting for more since it tastes just like cheesecake! Moreover, consuming enough protein throughout the day can be a struggle for some of us. Others may find it hard to consume solid food as a source of protein. Therefore, this protein-packed smoothie can help you get what you need!
Ingredients
1 ½ cup of frozen strawberries
½ cup of frozen sliced bananas
1/3 cup of non-fat Greek yogurt
¼ cup of vanilla protein powder
1 cup of unsweetened almond milk
Directions
Blend all ingredients at high speed until smooth. Add almond milk if necessary, depending on the consistency you want. Top it with chia seeds and crushed graham crackers and serve.
Let us know which of these smoothies you've tried in the comments below!