The Manifold Benefits of a Mani-Pedi
It has long been established that a mani-pedi is one of the best ways to keep your nails looking healthy and beautiful. Getting these treatments done every once in a while is a good idea for both men and women. Since we use our hands all day long for so many different things, we need to take proper care of them. The same can be said for our feet, since we put so much pressure on them.
For those who think manicures and pedicures are meant for special occasions only, or that they are just a way to pamper yourself, you might find it interesting that mani-pedi has several other benefits, especially in winter when your skin is dry and needs some extra pampering and nourishment.
Here are some of the great benefits of professionally done manicures and pedicures:
Better Blood Circulation
While getting a manicure or pedicure, aside from exfoliating, moisturizing and cuticle treatments, you will also receive a relaxing massage for your hands and feet. This not only helps in relaxing the muscles but also improves the blood circulation and enhances the mobility of the joints. This can get rid of your aches and pains and help regulate your body temperature in the colder months.
Healthier Nails
With regular mani-pedis, the chances of your nails developing infections (fungal or otherwise) are decreased. Our hands are exposed to a lot of external factors and products daily. It's a smart idea to have a deep and exfoliating clean so the dead skin cells on your hands can be removed. This will also energize new cell development, promoting better nail health. The experts at your chosen nail salon can help you in choose the best mani- pedi depending on how damaged your skin is.
A Great Stress-buster
We all know that body massages are the best way to relax and restore your nerves, yet at times all it takes to unwind is a hand and foot massage. A mani-pedi is an awesome approach to unwinding while enhancing the look and feel of your hands and feet. Plus, the pretty nails you get out of it will automatically bring a smile on your face.
Relieves Chapped and Dry Skin
For people who have sensitive skin or dry skin, winters can be very harsh. It's therefore suggested to get manicures and pedicures regularly in the winter season to help your skin and nails. Doing so will keep your hands and feet smooth and soft despite being exposed to the harsh winter elements. In addition, your extremities are exposed to more daily dirt and weather than other part of your body, except your face. That means they can collect dirt easily which might result in dead skin. Your feet are mostly exposed in the summer or spring season but walking or standing for long periods of time cause calluses and other uneven skin conditions.
An expert manicure incorporates a careful cleaning and has proper lotion to exfoliate your skin. All dirt will be removed during the process along with the dead skin cells, leaving your hands smooth as well as reducing the appearance of wrinkles. An expert pedicure will get rid of dead skin on your feet, and also get rid of any callouses you may have. This not just makes your feet more appealing; it also helps you distribute your weight more evenly, which in turn decreases leg and back pain that comes after standing for long periods.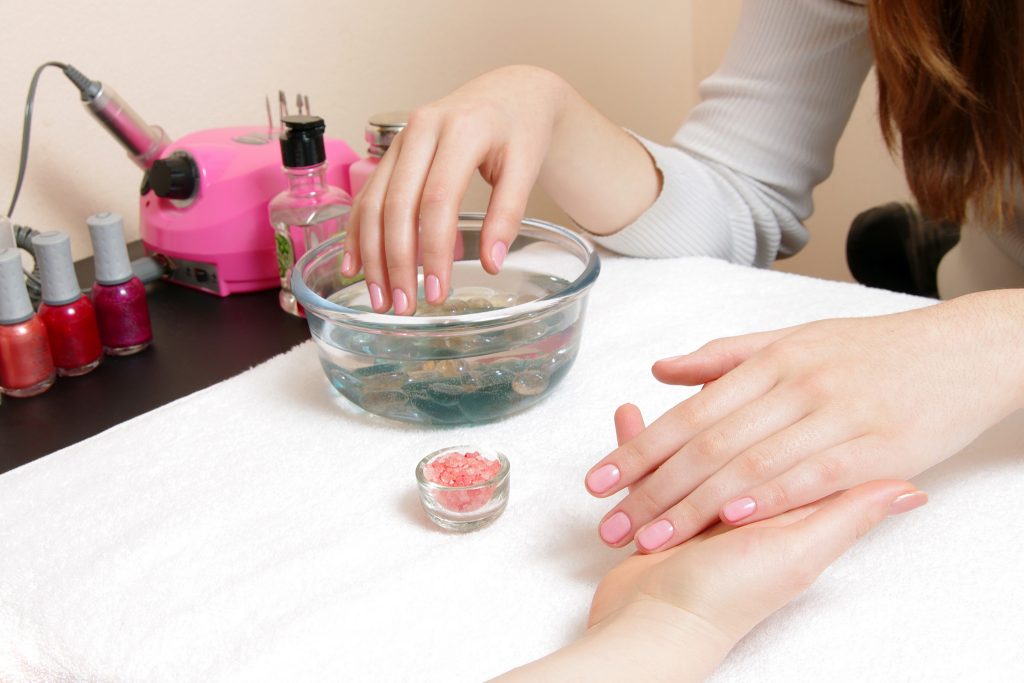 Better Mental Well-being
A mani-pedi is an incredible way to unwind and be spoiled. Different nail salons will charge differently for the various treatments, so you can choose which treatment you want and can save your money while getting your hands and feet pampered by the expert. After a stressful day or week, these can completely relieve your stress, and the benefits of having gorgeous nails can last for weeks. A great nail color is a perfect accessory to any outfit, so you can cross painting your nails off your list of things to do.
As you can see, a mani-pedi session is not just an occasional treat you should indulge in, but a regular act of self-care that offers lasting benefits. Pick a good beauty salon like Gladys Beauty Saloon and schedule sessions every two or three weeks to enjoy clean and healthy nails along with smooth and soft skin.