Healthy Recipes from Gordon Ramsay – Part 3
Appointed by Queen Elizabeth II as Officer of the Order of the British Empire (OBE) in 2006, Gordon Ramsay is as famous as an Oscar-winning actor.
And for all those who hate the words "healthy food", Chef Ramsay's tasty and healthy recipes will change your mind.
So, take a look at these recipes!
#1. Banana and Apple Crisps
We all feel the urge to have some tasty snacks a few times a day. However, instead of these unhealthy packaged potato chips, we bring you some healthy and lip-smacking apple and banana crisps.
Ingredients you will need:
Cooking Instructions:
1. Preheat the oven.
2. Prepare some large baking trays with greaseproof paper.
3. Finely chop the bananas and apples with a sharp knife and place the slices on the baking sheets.
4. Place the tray in the preheated oven and let it bake for nearly 2 hours. However, remember that compared to the bananas, the apples will take less time to bake and thus you must check on them after 1 hour at least.
5. Once they are fully baked, remove them from the oven and let them to cool on the tray itself. After a few minutes, the apple and banana crisps are ready to be devoured. They can be stored in an airtight container for one week.
These apple and banana crisps are so tasty that they can even be served during special occasions such as birthdays and wedding anniversaries.
#2. Prawn Waldorf Salad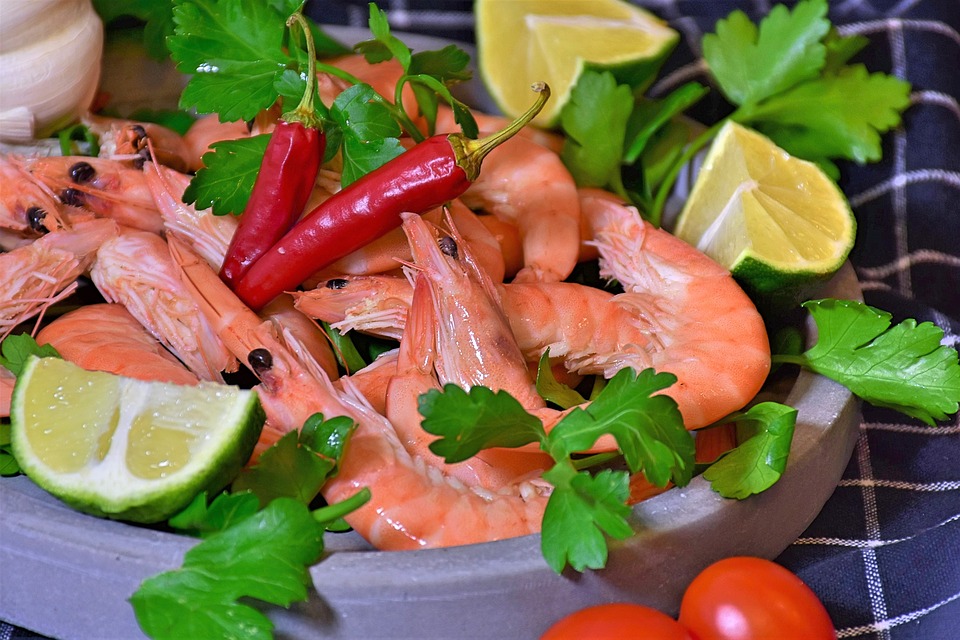 Now, it's time for some seafood!
Ingredients you will need:
One finely shredded lettuce
200 grams peeled and cooked prawns
100 grams washed green grapes
Ingredients for the dressing:
Seven tablespoons of Greek yoghurt
1 ½ teaspoon of Dijon Mustard
One teaspoon of cider vinegar
Steps:
Step 1: Start with the dressing. Please take all the necessary ingredients and whisk them together in a small mixing bowl. During the process, taste and if necessary, adjust the seasoning. For example, more lemon juice can be added if required.
Step 2: Take a dry frying pan and toast the walnuts over medium heat for over 2 minutes until they become golden-brown.
Step 3: Once you have cut all your ingredients as per the requirements, place the lettuce, prawns, celery, apple and grapes in a large bowl. Pour the dressing over the mixture and mix all the ingredients properly. Once again, taste and adjust the seasoning if needed.
Step 4: Serve in a white plate and decorate with some fresh coriander on the top.
#3. Grilled Chicken With Garlic Mushroom and Lentil Salad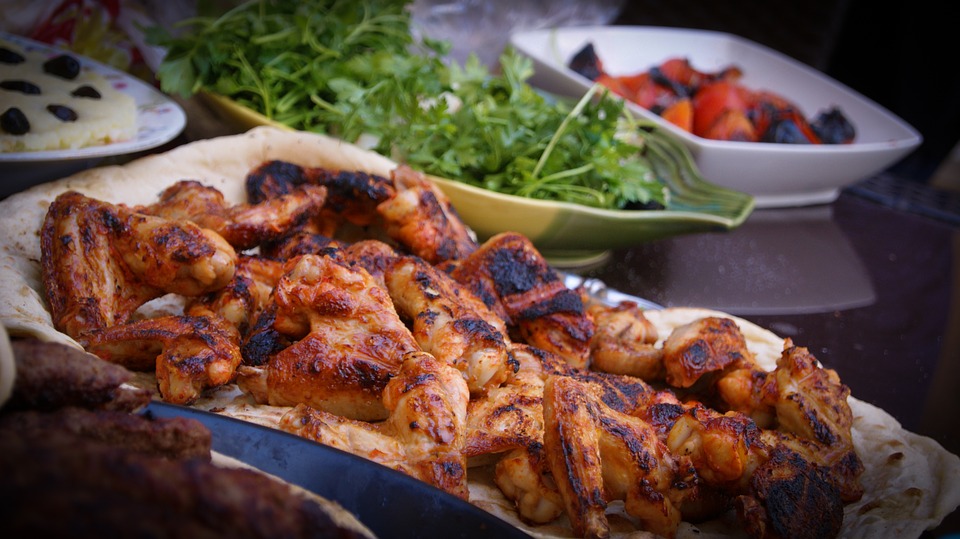 If you are a chicken lover, this is the perfect healthy dish for you!
Mixed with a healthy combination of lentils and mushroom, this excellent chicken dish can wake up your taste buds.
Ingredients you will need:
800 ml vegetable stock or simply water
One tablespoon of olive oil
500 grams sliced mushrooms
Two peeled and finely chopped garlic cloves
Ingredients for the dressing:
One peeled and crushed garlic clove
Two tablespoons of white wine vinegar
One teaspoon of wholegrain mustard
One tablespoon of extra virgin olive oil
Cooking Steps
Step 1: Into a large saucepan, pour the lentils and add the bay leaf, thyme and vegetable stock or water. Let it boil over medium heat and simmer for approximately 20 minutes until the lentil is cooked and is tender.
Step 2: Heat another large frying pan over a medium heat and add extra virgin olive oil. Once it is hot, place the mushrooms with a pinch of salt in the pan and let it cook for 5-10 minutes until the mushrooms become soft and lightly caramelised.
Step 3: Add the chopped garlic to the pan filled with mushroom and after 2 minutes, turn off the heat and remove the pan.
Step 4: Now, let us go back to the lentils. Once you have checked that they are tender, drain them.. It is up to you if you want to discard the herbs or not. Pour the lentils in a large bowl and add the mushrooms. Mix gently so to avoid breaking the lentils.
Step 5: For the dressing, pour all the ingredients in a clean jar. Add some salt and black pepper and then shake it after closing the jar with a tight lid.
Step 6: At this stage, the chicken should have already been marinated well with enough herbs. Preheat the grill to high temperature and grill the chicken for over 6 minutes.
Step 7: Take the bowl of lentils and mushroom and pour over half of the dressing mixture over it. Add in the rocket leaves and the grilled chicken and pour over the remaining dressing. And, the dish is ready to be served!
If you still haven't closed the page, it means that you are somewhat interested in these recipes. Please share your comments!