9 Benefits of a Cup of Green Tea
Green tea is not just a trendy drink to take for pleasure. Not only does it taste good, but it is also an excellent all-in-one natural remedy! The amount of benefits offered by green tea impresses many scientists as well as health specialists. One thing is certain; they all agree that its virtues are beneficial for the body and mind. Here are 9 incredible benefits of green tea. Disclaimer: you will have a sudden urge to serve yourself an excellent green tea. At least you've been warned!
1) Excellent for Digestive Disorders
Drinking green tea on a regular basis is very beneficial for digestion. The stimulation of the cells that consumption engenders optimizes waste elimination and ensures good fluidity. In this sense, drinking green tea is a great option for people with digestive problems. If this is the case for you, there is nothing to lose by trying it!
2) Fat-Burning Effects
Highly appreciated as part of diets, especially when trying to lose weight, green tea is a natural fat burner. It targets in particular, the ventral fat. It is the EGCG (epigallocatechin gallate) present in green tea that activates fat-burning genes in the abdomen.
3) Reduces the Effects of Depression
Unfortunately, depression is one of the most common illnesses. It is a relatively taboo subject, but many people are affected by it in their lifetime. The theanine present in tea has relaxing and tranquillizing effects that help reduce stress. In addition, it is a comforting drink to take with friends. No matter what your situation, drinking green tea could be useful for your morale.
4) Rich in Vitamin E Which Protects the Skin
Green tea takes care of our skin. It can prevent skin damage and wrinkles. EGCG appears to be 200 times more powerful than vitamin E in destroying the harmful effects of free radicals that react with healthy cells in the body, causing damage. Hence, reducing their numbers can help decrease wrinkles and other signs of aging.
5) Improves Brain Function
Memory, thinking speed, and neurological connections are all on the list of elements that green tea can help with. We bet these are benefits you would like to enjoy. Like coffee, green tea contains caffeine, which stimulates the brain and keeps it more active. The bonus is that, unlike coffee, it is not subject to overdose.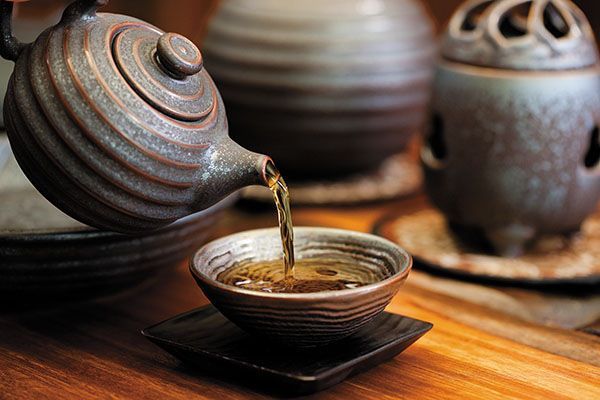 6) Strengthens the Immune System
The cocktail of benefits of green tea optimizes several functions of the human body and its protection against various diseases, viruses, and infections. Your immune system will thank you, especially in winter, when the weather is cooler.
7) Helps Fight Cancer
The catechins present in green tea are anti-cancerous molecules; their absorption can only positively affect your health. Able to prevent angiogenesis (the ceration of new blood cells, which can either be produced too much or not enough in cancer patients), EGCG is a significant asset in countering tumor formation. Some practitioners recommend consuming three cups of green tea a day to fight cancer.
8) Delays The Effects of Alzheimer And Parkinson
Since green tea helps renew and maintain healthy brain cells, it greatly helps prevent cognitive and mobile degeneration. Another benefit of green tea that many people should know about it!
9) Prevents Bad Breath
The magic of green tea also works inside the mouth. It kills the microbes responsible for bad breath. Apparently, green tea is more effective than mint, chewing gum, and even parsley seed oil in fighting bad breath. Don't hesitate to take a few sips before a date!
Green tea has so many advantages and health benefits that not consuming it would be a real loss!