Tips to Help New Moms Breastfeed
There comes a time in every woman's life where she is unfamiliar to the process of breastfeeding. Considered as one of the first nurturing acts as a new mother, breastfeeding comes naturally to most women. It is normal that new parents take time to adjust in their new roles as their lives have changed since they knew they are expecting. If you are a first-time mom, then there is a lot you have to go through to prepare yourself. From the emotional upheaval to always being over-protective for that life you just brought to this world, becoming a mother for the first time is an unexplained feeling. It is well-known that the first 6 to 8 weeks of any breastfeeding journey are often the toughest. There is a learning process that both you and your baby have to grab – the techniques and establishing the milk supply. So to help new moms out there, here are some tips that will surely bring a smile on their tired face.
It's okay to breastfeed right after delivery – Whether you have delivered by C-section or naturally, you are encouraged to have skin-to-skin contact with your baby. This is done to stimulate the milk production and regulates your baby's temperature and also strengthens the bond between you two. Usually, the mom is encouraged to breastfeed her baby within the first hour after delivery as it helps stimulate your milk supply easily. It is important to consider that your baby won't be actively fed for the first time. Instead of sucking, the baby will only lick the nipple. It is an integral part of the development of the sucking reflexes.
It's not okay if it hurts when breastfeeding – It is vital that the baby has a good latch. Remember, breastfeeding should not be painful. You can learn how to position your newborn and make sure that the latch is appropriate. Ensure that the baby is latched tightly to the breast, so her cheeks and chin appear seamlessly attached to you. It's okay if you don't see the lips. The most important thing is that you both should feel comfortable.
Do prepare your breastfeeding session beforehand – It is essential that you prepare yourself for the breastfeeding session. Place a nursing pillow or sit in a comfortable armchair that can relieve the pressure on your back and shoulders when breastfeeding. If you had a C-section, then it is better to lie down on your side with your head supported by pillows and breastfeed while lying down. Your baby should also be the lying position that too slightly lower than your breast. You can use a nursing bra and breast pads to absorb any leakage from your breasts. Keep yourself hydrated especially, new moms!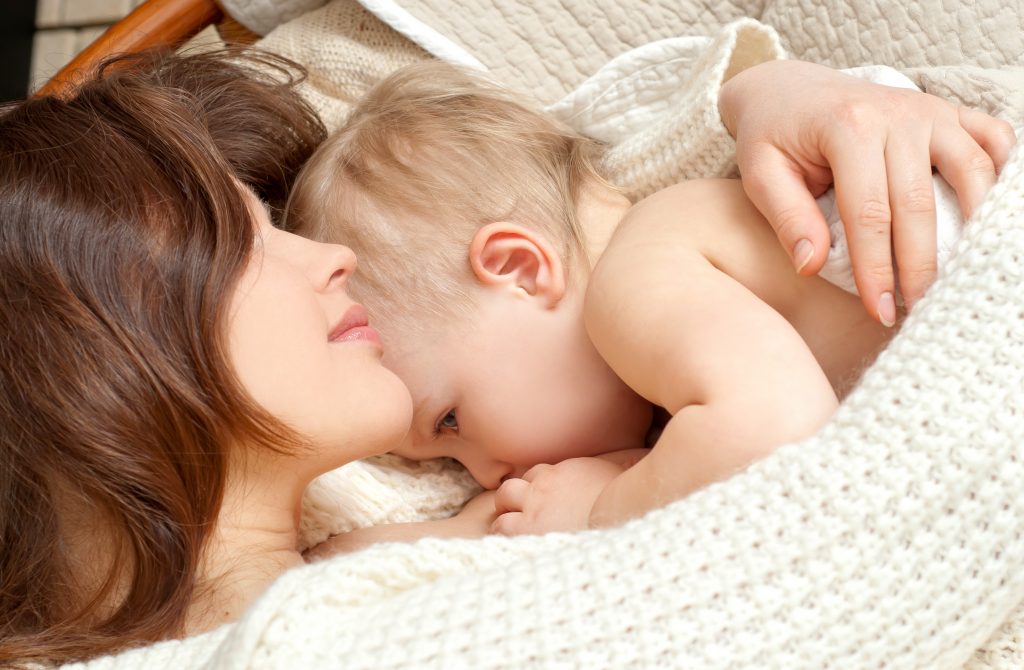 It's essential that you find the right breastfeeding technique – For your baby to get a mouthful of breast, then finding the proper technique is necessary. Place your baby's body and head in a straight line against your breast and be tummy to tummy connected. Stimulate your baby's inborn reflexes by brushing your nipples against their cheek. At that moment, your baby will turn towards your breast and begin to root and nudge. Your baby's mouth should come straight to the nipple, and it should enclose the areola. Follow the principles of the tummy to tummy and nose to nipple techniques when breastfeeding your baby.
It's okay to breastfeed your newborn frequently – As you start to breastfeed, your body releases some breastfeeding hormone such as oxytocin and prolactin. Oxytocin is a feel-good hormone; it gives you a sense of trust, safety, and calm. This also stimulates the let-down of milk from your breasts. And, prolactin helps in stimulating the production of milk. It's funny how breastfeeding is based on supply and demand. The more you demand of your body, the greater you can supply. Recognize your baby's feeding cues and feed on demand. This is normal for at least 6-8 weeks, and it will start to slow down eventually. Rooting with the fists or fingers in the mouth, smacking of the lips or fidgeting are the feeding cues that your baby will give out. Just pay attention!
Breastfeeding time should your peaceful time together – If possible, keep the breastfeeding sessions calm and stress-free, especially if you mastered the breastfeeding technique. It is known that stress reduces milk production. It is better to listen to something that will soothe you while you are in the breastfeeding session.
It's okay for a newborn to take time – Not all babies are the same, feeding your baby can take anywhere from a few minutes to 30 minutes or longer. It is vital that you let your baby decide the frequency and duration of the feed. There are babies who feed quickly and others who take longer; there are babies who even nap while being fed.
If you are a new mom, then visit the WOMB website. They offer breastfeeding support as well as pregnancy-related services. They aim to serve the community in a loving space where families are nourished, nurtured, and inspired through life.