The Pros and Cons for Each Type of Braces
What Type of Braces Can You Choose From?
In the past, when orthodontists spoke of braces, everyone's thoughts went to heavy-duty metal braces and headgear. Thankfully, these days are long gone. Nowadays, people are not limited to conspicuous metal braces and have a wider range of options.
Advancements in orthodontics have led to the development of many new types of braces for kids and adults. Among those varieties, adults can pick clear aligners that are hard to see and are removable. Clear aligners tend to be more expensive than traditional braces, yet adults prefer them as the chances of someone finding out that they are wearing braces are drastically reduced.
The wide variety of options include traditional braces, ceramic braces, lingual braces, Invisalign and self-litigating braces. Below is a quick breakdown of the pros and cons of the four most common types of braces:
Traditional Braces
For most people, the first thing that comes to mind when one thinks of braces is metal brackets and wires tightly adhered to the teeth. However, even though they are still 'traditional', today's traditional braces are far less conspicuous and invasive than previous traditional braces that came with headgear.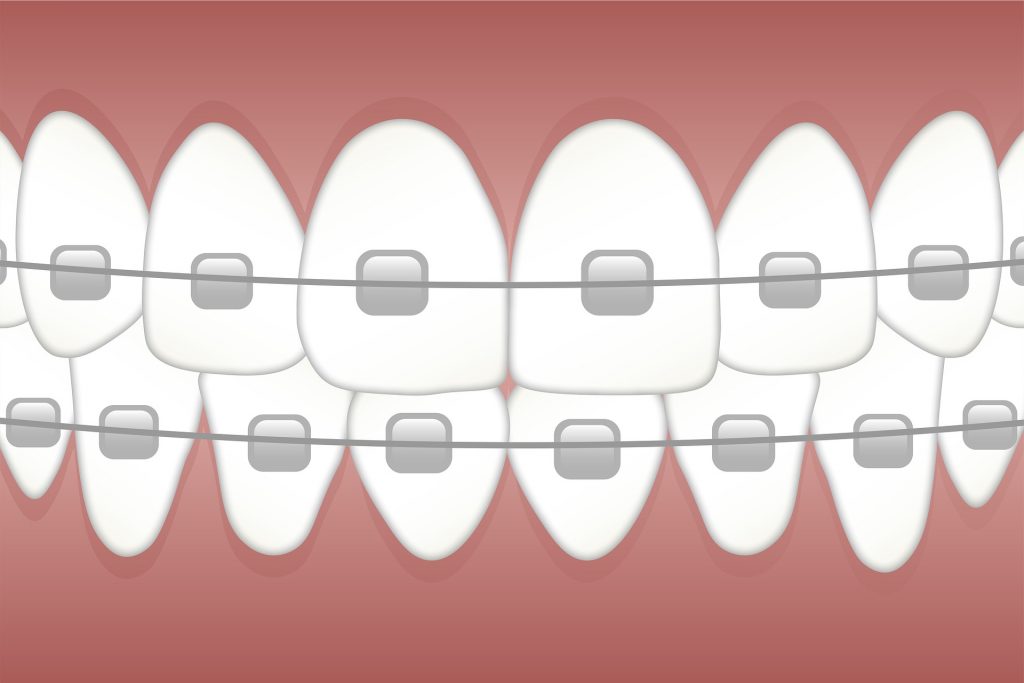 The Pros
Metal braces are the most cost-effective option out there.
Since bands come in a variety of colors, children can pick their favorite color and make the experience more pleasant.
They are excellent options for patients with severe dental problems.
These braces can straighten teeth and close gaps relatively fast.
The Cons
They are the most noticeable form of braces.
Patients tend to have trouble eating.
They can demineralize the teeth and cause allergies.
Ceramic Braces
Ceramic braces are very popular among adults and used to be known as 'clear' braces. Even though they are of the same shape and size as traditional braces, they are made of a material that mimics the color of teeth. That's why ceramic braces are harder to notice. The orthodontist can even provide brackets and wires that are clear to further reduce the visual evidence of the braces.
The Pros
Ceramic braces are less visually evident compared to metal braces.
They produce results faster than clear plastic aligners (Invisalign).
Ceramic braces are available in nearly any color imaginable.
They are one of the most comfortable options for dental realignment.
They don't disrupt signals in imaging tests as metal braces do.
The Cons
Ceramic braces are more expensive than metal braces.
Ceramic braces are more likely to break off than metal braces and the removal of the glue can also damage the enamel of your teeth.
Since ceramic brackets are larger than metal ones, they may cause gum sensitivity.
The ceramic brackets are harder to clean and stain easily. They require greater care to maintain a "clear" appearance. If the braces are not properly cleaned and you cannot reach the enamel and gum line with your toothbrush, you can end up having swollen gums or receding gums.
They move teeth slower than metal braces.
Lingual Braces
The least common of all braces, the lingual braces look and feel exactly like traditional metal braces. The only difference is they are placed to the back of the teeth, also known as the lingual side of the teeth. The brackets, therefore, face the tongue.
The Pros
They are more discrete and completely invisible to others.
Unlike with metal and ceramic braces, any discoloration or white spots resulting from wearing braces will be on the inside of the teeth.
The Cons
They are expensive.
They are difficult to install and clean.
Lingual braces cannot be used for more severe cases.
Patients experience greater initial discomfort
Routine adjustments are difficult and take longer than with traditional braces.
Invisalign
Invisalign is essentially an aligner that is used for certain bite problems. They are a series of plastic mouth-guard-like templates that are tailor-made and that needs to be changed every two weeks. Changing the aligners every two weeks helps straighten the teeth.
The Pros
There are no restrictions when it comes to your food and beverage intake.
Since the aligners are clear, they are nearly invisible.
They provide greater levels of comfort when compared to the other options available on the market.
Invisalign is easier to clean and maintain when compared to the other types of braces.
The Cons
Invisalign are not suitable for serious dental problems.
They are available to adults and teens only, and not to kids.
Invisalign is the most expensive option when it comes to braces.
Since it can be removed, the aligners can get easily lost.
It will take longer to achieve the desired results when compared with traditional braces.